As usual late ang cebu pacific.. we arrived at puerto princesa around 945am. Then we saw our name written in a bond paper then sakay sa shuttle and the driver dropped us in front of the hotel. The room is nice and big and with "y-py" ( as stated in the email for our hotel reservation ). Then we rested for a while and get ready for our lunch. We ate at ka Lui restaurant. It's a native restaurant made out of bamboo. We didn't know that slippers are not allowed…
We ordered "Ka Lui Special" — Blue marlin with coconut cream, sizzling tuna, shrimp, talong ( deep fried coated with flour and with tiny bits of squids ) and with fruits placed sa "bao" ng buko. After our sumptous lunch we get back to our hotel and waiting for our scheduled city
tour.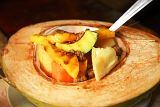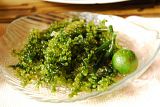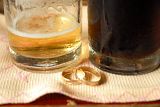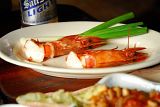 City Tour
Stop #1: Palawan Museum


At around 1pm we got a call from the receptionist telling that the tourist guide is now waiting for us for our City Tour. We went to Palawan Museum.
An institution that showcases the history, culture, music, art and crafts of Palawan. Its exhibits shows the archeological, ethnological, collections, such as jars and porcelains, hunting and trapping tools used by the early ancestors, musical instrumental and brassware, some artifacts from Tabon Caves. We're in a group four from camp crame ( as I can remember they are lieutenant ). Anyway got no time to shoot since we're in a group kakahiyang magpahuli.

Stop #2: Iwahig Penal Prison


The Iwahig penal colony is a low security work farm. Over a thousand prisoners live and work around a central village square. Iwahig is a very different concept in penile confinement from the traditional prison system in most places. This colony has no major walls or barriers to keep prisoners in. The main security precaution was gathering all prisoners together in the village square three times a day for head counts. The small size and remoteness of the island of Palawan is the primary factor which discourages escape. Transportation off the island is almost impossible for a prisoner to arrange on his own and fleeing to the remote mountains of Palawan would mean almost certain death from malaria. For these reasons, escape attempts were rare at Iwahig. A factor which encourages prisoners to stay are the living conditions. They are every bit as nice or nicer than any other remote village we visited in the Philippines. Prisoners are even welcome to bring their wives and children to share their incarceration. If it weren't for the guards with shotguns walking around, we would not have known this was a prison.
The functionality of Iwahig seemed communistic in design. All the labors of the prisoners went to support the institution. Through farming and export of handmade crafts, the c
olony is financially self-supporting. Prisoners also make craft items on their own time and sell them to purchase items from the colony store.
The store was small with half the stock devoted to living essentials for the inmates and the other half hand-crafted goods for sale to tourists. Everything from woven plastic hats to some of the finest crafted hardwood items were on display. Camagong is the most sought after of the wood crafts. We later learned that deforestation has made the camagong a rarity. Its export and import have been limited by the government in order to ensure its survival. This wood is very dense and a dark brown, almost black in color. Boxes, canes, and pointers were fashioned out of camagong and inlaid with mother of pearl.
Stop #3: Crocodile Farm


Stop #4: Baker's Hill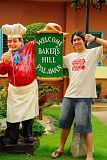 I thought Baker's Hill would be an old-fashioned hut where the smell of wood-fired, oven-baked Palawan pastries would be wafting through the air the entire day. After all, everything in Palawan that I had seen so far has been "authentic" . To my surprise when we arrived at a modern cake-colored house with figurines of Marilyn Monroe, dinosaurs, Snow White & the Seven Dwarves and countless slides and swings littering the garden.